Who we are
LeS dOiGtS bLeUs is a collective of young artists based in France which aims at promoting an poetic approach of life. To us, poetry is not some fancy lingo that can only be found in old dusty books, it is a philosophy that invites people to feel, look around, be curious and communicate.
LeS dOiGtS bLeUs means "the blue fingers" in French. Our motto is a verse by Keyvan Sayar : "je toucherai le ciel et j'aurai les doigts bleus" (I will touch the sky and I will have blue fingers).
We write, paint, act, make movies, exhibitions, events, websites... and help young artists set up their projects.
As Andre Malraux wrote, we think that people should "bring the means of art into life, not to make it more like art but to make it more like life".

What we do
LeS dOiGtS bLeUs has two main branches : creation and social action.
The creation branch
is a non-profit production company. We help artists realize and/or promote their projects. We mutualize resources to help one another. Our main fields of creation are cinema, plastic arts and litterature. In the future we hope to be able to produce music, theater or dance too (so if you have a project, don't hesitate to
contact us
).
These creations are promoted through our five websites, our magazine and the events we organize.
Here are some examples of our creations :
- Sykamore Television : where you can see our short-length audio and video programs
- Sykamore Magazine (our magazine which features articles written by people from all around the world on the same topic : poems, articles, photos... different views of the same subject)
- Painting exhibitions (we have organized many of them this year... they allowed young artists to show their works to the public)
The social action branch is deeply linked to the creation branch. Our art-in-life philosophy implies concrete solidarity actions. From artistic ballads to collecting books and artwork to ship them to developping countries, we have several projects that aim at creating solidarity, fighting discriminations through art.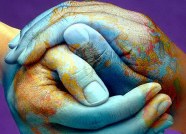 Here are some examples of programs or events of the social action branch :
-
Les Zoliboîtes
: We collect books, music and videos to ship them to Burkina Faso and Sri Lanka...
-
Mon Paris
: artistic guide of Paris... created from the artistic afternoons organized in the French capital. Teams of three people go discover a neighbourhood and come back with tons of photos, places and urban legends.
-
Les glisseurs de mots
: Slipping notes with quotes or drawings on them to people that you don't know... a solidarity action that aims at breaking isolation through art. Hundreds of notes have been slipped... (in books at the library, in shops, on the subway, etc).

Get Involved !
LeS dOiGtS bLeUs' Label offers help to people who want to make movies, people who want to make exhibitions and people who want to get published. Don't hesitate to
contact us
!
All the people who want to promote art, peace, open-mindedness, curiosity and peculiarity are welcome !
Take a look at our website, drop us a line, start a local group in your city !
You don't have to speak French to be part of LeS dOiGtS bLeUs
If you are coming to Paris for some time and want to have some fun,
join us
!
If you are looking for an internship in Paris,
send us
your resume and tell us what you would like to work on.
If you want to participate to our activities through the Internet,
contact us
to arrange an online appointment in our chat room !
If you are an organization and want to become our partner, do no hesitate to
contact us
!